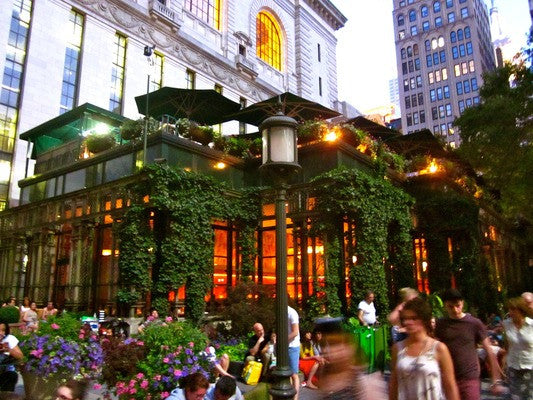 Bryant Park Grill
C'est magnifique. Bryant Park Grill's extravaganza will be this New Year's Eve toast of the town filled with pizzazz and elegance Celebrate New Year's Eve with sophistication and Parisian flair at New York City's most lauded restaurant-lounge, Bryant Park Grill. Just a stone's throw away from Times Square NYC, you'll enjoy gorgeous and scenic Bryant Park as your backdrop as you welcome the New Year in high style.
The revelry begins with a 6 and half hour premium open bar.. The party temperature rises as a top NYC DJ spins Top 40, Rock, Hip-Hop and 80s music as guests dance in place or saunter to the generous dance floor. New Year's party goodies provided complimentary by Bryant Park Grill passed hors d'oeuvres as early evening starters, a continental breakfast in the wee hours of the morning and wonderful fun-filled holiday party favors. As the evening reaches its intended midnight climax, a heart-stopping DJ countdown will have everyone raising their glass of complimentary champagne to welcome and toast the New Year in style. Only the best for its guests, Bryant Park offers Patio and Rooftop VIP Packages for groups and a special Couples Champagne Package for romantic twosomes.
We are confident you'll want to welcome in the New Year with a bang at this impressive space that's defined by its haut couture style and over-the-top Manhattan panache. Join the scene, and most importantly, be seen at this gorgeous eatery that caters to an international crowd of celebs, fashionistas, financiers and moguls. Bryant Park Grill is located just one block from the prestigious Fifth Avenue and two blocks from the famous Times Square NYE celebration. Its locale, notably mentioned by the New York Times as one of Manhattan's loveliest public spaces, is nestled behind a landmark treasure, the New York Public Library. The exterior of Bryant Park Grill is flourishing and lush while the interior takes a leaf from the surrounding parkland, carrying out an arboreal decor theme enclosed in an architectural glass structure.
Twice a year, the fashion industry's royalty alongside celebrities descend on Bryant Park for the illustrious Mercedes Benz Fashion week. In addition, Bryant Park Grill has been frequented by various celebrities such as Gwen Stefani, Gavin Rossdale, P. Diddy, Carrie Underwood, Carmen Electra and Anne Hathaway. You'll be sashaying and cavorting your night away like supermodels and rock stars at the one and only Bryant Park Grill for New Year's Eve.
Premium Open Bar for the entire event
Midnight champagne toast
Featuring a live DJ performance
Festive NYE party favors
VIP Access to the exclusive Rooftop 
Coat Check (provided by and responsibility of venue)
Come early and help reduce wait time
Coat Check at this event is not complimentary
Going outside to smoke is not guaranteed and will be determined the night of the event